FREE SHIPPING
U.S. except AK & HI
Septic Drain Field Rejuvenation Products
Covid-19 Update July 2020

West Wind Marketing is operating as a one-man business during this time. For now, I am shipping on Tuesday and Friday only.

When products leave West Wind they are clean and packaged in materials that have been isolated in my warehouse for months.
​
Thank you for your continued support.
Wherever you are - please stay safe.
​
Carl Perna, President
West Wind Marketing, Inc.
Carmel Valley, CA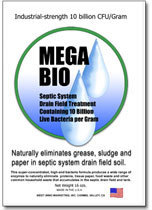 Now with FREE SHIPPING!
U.S. Only - Please no P.O. Boxes - No free shipping to HI & AK
No single product can solve all drain field problems but a two-pronged attack using one of our Combo Shock Treatments offers the BEST chance of restoring drainage to the soil. Studies indicate about a 90% success rate when Septic Perc® & Mega Bio™ are used together according to instructions.
Please allow 7-14 days for delivery.